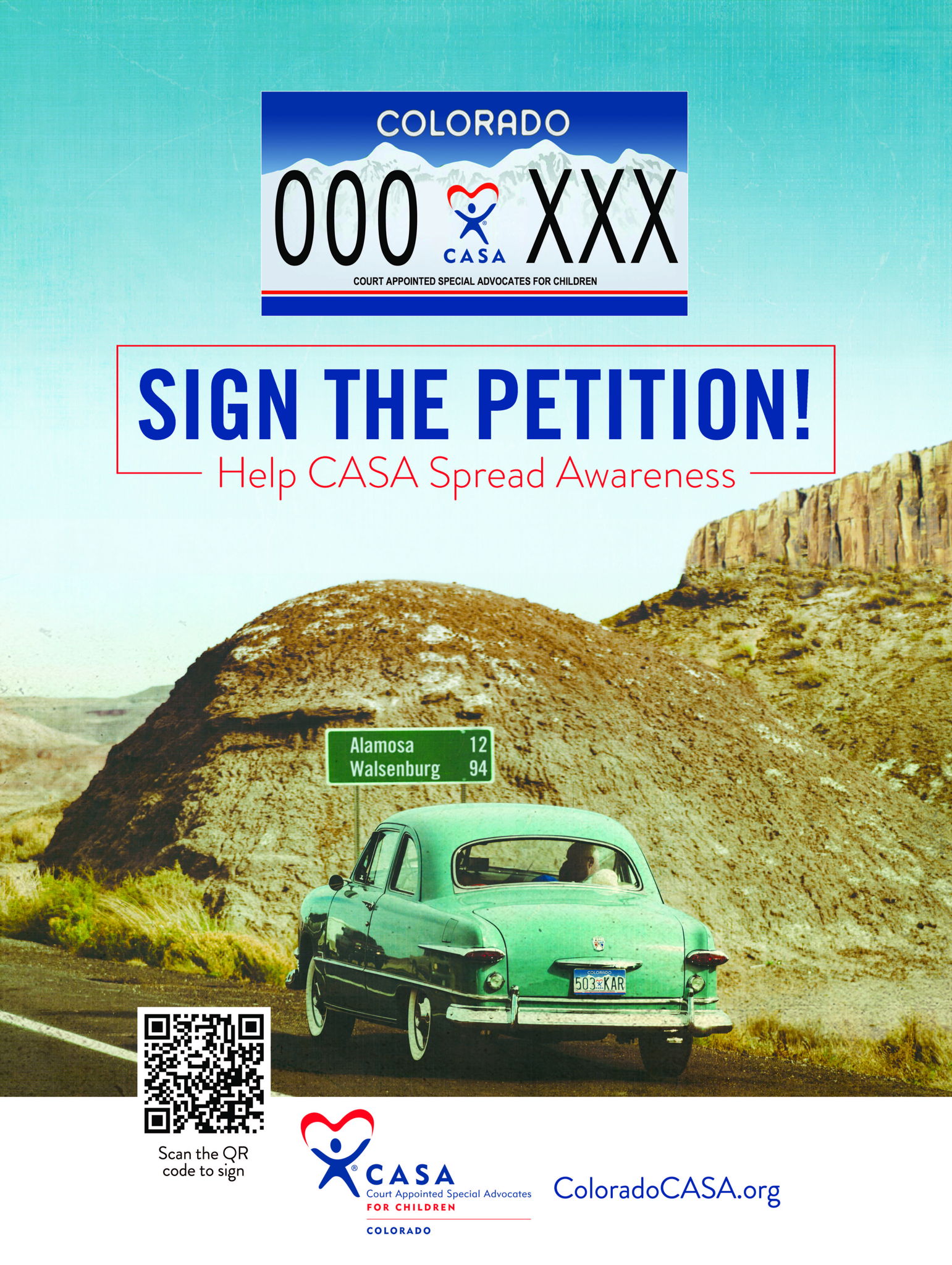 **PLEASE ONLY SIGN THIS PETITION IF YOU ARE A RESIDENT OF COLORADO!**
Support children who have experienced abuse and neglect.
Non-profit Colorado CASA (Court Appointed Special Advocates) and the network of 18 CASA locations throughout the state are collecting signatures in favor of a group special license plate to promote awareness and to aid in recruitment and retention of CASA volunteers in Colorado.
CASAs are trained volunteers that advocate for youth who have been abused and/or neglected, assisting the judge in making the most informed decision based on the child's best interest. One CASA volunteer — one consistent adult — dedicated to a child's well-being can make a big difference by reducing the amount of time a child may spend in foster care, ensuring the child and the family have access to vital resources, and helping strengthen and reunify families whenever possible.
Colorado CASA reports children in foster care who have a CASA volunteer are more likely to succeed in school, adjust to change and feel a sense of purpose and worth. They are also half as likely to re-enter the foster care system later.
On average, 12 children each day are removed from their parents and placed temporarily in the child welfare system in Colorado (Colorado Department of Human Services). Last year — with only 2,179 CASA volunteers in Colorado — 4,857 children were assigned a CASA volunteer to walk beside them, representing approximately 37% of all children served through an open child welfare involvement in Colorado today.
We hope you will join our CASA movement by signing this petition.
PLEASE ONLY SIGN THIS PETITION IF YOU ARE A RESIDENT OF COLORADO.